Otherzine

, the underground film magazine based out of San Francisco's great

Other Cinema

, have just published their 30th edition. It's been issued to coincide with Other Cinema's 2016

Spring Programme

. Edited by Molly Hankwitz, Otherzine 30: M a T e R i A L Cinema
[…] explores the material processes of film making, whether digital or analogue, small-screen, handmade or multiplex; performed, or projected, performed and projected, historical or recent. We are especially proud of this wonderful and enigmatic collection; clever, individual pieces each a producing a thoughtful glance at or analyzing some component of "materiality" with a very strong emphasis, as it turns out, upon "live" cinema performance, and the performance of cinema.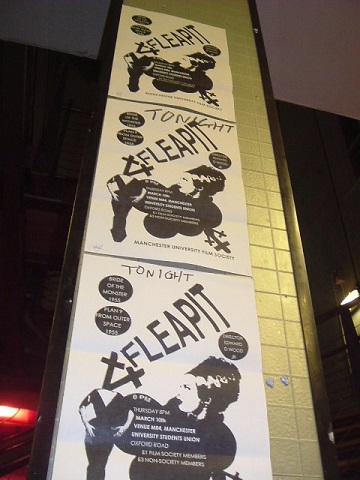 Fleapit: Somewhere in the North
I'm happy to say that I've been included in this issue. The brilliant

Evie Salmon

graciously took some time out to interview me about Fleapit and the

Road Movies

project. As you'll see from the text, because she's been there since the start, Evie is ideally placed to ask the right kind of questions from the right kind of angle. It was a real pleasure to revisit the very earliest Fleapit shows in this interview which Evie expertly edited from a much longer conversation. Her introduction gets it bang on: shambolic shows, dodgy cowboy boots, disinterested crowds. The battlefield she describes was a brief foray I undertook to Edinburgh just as Fleapit was starting out in Lancaster.
An additional point of circularity comes with the link to Other Cinema.

Craig Baldwin's

work was a massive influence on Fleapit and continues to inform my thinking on film more generally. As such,
it's a great pleasure to now have the project covered in
Otherzine
.